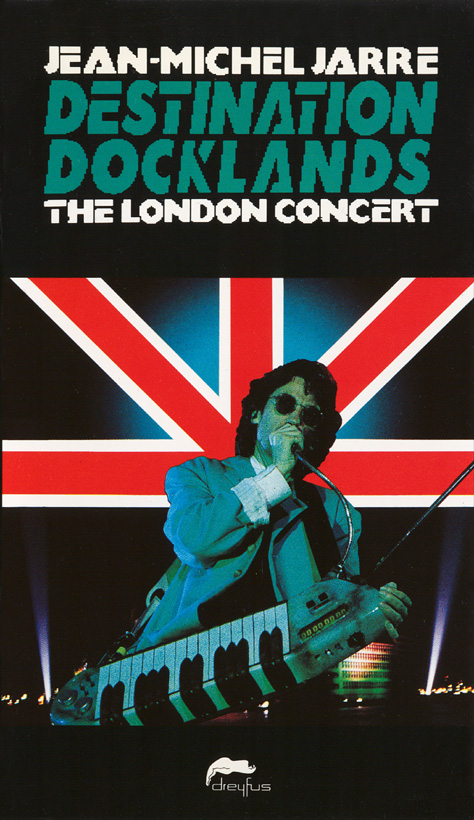 Nome:
"Destination Docklands"
Ano de lançamento: 1989
País: França
Formato: VHS
Sistema: PAL e SECAM
Gravadora: Polydor / Polygram Music Video
Diretor: Mike Mansfield
Mixagem: Denis Vanzetto e Michel Geiss
Músicos: Christine Durand, Francis Rimbert, Joe Hammer, Michel Geiss, Pascal Lebourg, Dominique Perrier, Guy Delacorix, Dino Lumbroso e Sylvain Durand
Coral: The Newham Academy of Music
Participações especiais: Hank Marvin, Setsuko Yamada, Xavier Bellenger, Mireille Pombo, Sori Bamba, Kudsi Erguner
TRACKLIST:
OVERTURE
INDUSTRIAL REVOLUTION
MAGNETIC FIELDS II
OXYGENE IV
REVOLUTIONS
LONDON KID
RENDEZ-VOUS IV
RENDEZ-VOUS II
SEPTEMBER
THE EMIGRANT
Duração: 52 minutos. Na edição do box-set "Les Années Laser", inclui Making of (37 minutos)
O concerto de Jean-Michel Jarre em Docklands, na cidade de Londres, inicialmente agendado para 24 de setembro de 1988, foi dividido em dois concertos nos dias 8 e 9 de outubro, apesar das drásticas condições climáticas.
No apocalíptico cenário das docas, metade em ruínas e metade restaurada com grafite, um senso de violência e armazéns, que se chocam com os estilos arquitetônicos mais recentes. Os concertos nas docas de Londres, simbolizou a mutação das antigas cidades europeias e vai ficar na memória do público britânico.